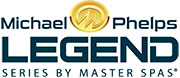 Master Spas® Legend Series from Your Wisconsin Spa Experts
Presented by Wisconsin's Premier Spa Dealer:
Master Spas of Wisconsin
As the flagship model of the ultra-premium Master Spas® Legend Series, the Michael Phelps Legend Series spa delivers unmatched performance and unparalleled design. After all, like 23-time Olympic gold medal-winner, Michael Phelps, performance makes all the difference between being #1 and just a nameless face in the pack.
Legend Series spas feature a modern, sophisticated design and deliver many cutting-edge technologies and features that are now hallmarks of the Master Spas® brand.
Why settle for second best? With Master Spas® of Northern Wisconsin, you can have your very own Michael Phelps Legend Series spa installed right in your own backyard. Plus, you'll be working with Wisconsin's top Master Spas® dealer and service center.
Legend Series Spas: Legendary Performance, Exquisite Design
With Legend Series spas, Wisconsin doesn't have to make compromises in terms of luxury, convenience, or relaxation — all are here in one beautifully designed, high-performance package.
Some of the top features and benefits of Legend Series spas include:
Head-to-toe hydrothermal therapy system: StressRelief™ neck and shoulder seat, 14-nozzle Master Blaster™ foot massage jets, Master Force™ bio-magnetic therapy system, and Xtreme Therapy™ seats with 22 strategically placed nozzles.
Bluetooth® stereo system (premium option): Just press play and be carried away by the Master Spas® Deluxe Fusion BT™ Bluetooth® stereo sound system, featuring audiophile-grade speakers, docking station, and water-resistant remote.
Waterproof iPad® entertainment system (premium option): Stream TV shows and movies right in the comfort of your Legend Series spa.
EcoPur® water filtration: The advanced EcoPur® water filtration system creates the most crystal-clear spa water on the market — even when compared to salt-based sanitizing systems.
Mast3rPur™ UV light and ozone sterilization:Legend Series Spas feature Mast3rPur™ ultraviolet light and ozonation technologies so your spa is always clean and ready to enjoy.
Noise reduction system: Legend Series Spas' advanced engineering and designs have reduced motor and pump-related vibration and noises by 150%.
Choose a Michael Phelps Legend Series Spa
Master Spas® of Northern and Southern Wisconsin offers three models of the Michael Phelps Legend Series spa, including:
The LSX 900 model is the largest model of the Michael Phelps Legend Series spa models and is sized to fit a party of eight:

Comfortably seats 7 – 8 adults
72 therapeutic jets
Dimensions: 108″ x 94″ x 38″ (274 cm x 239 cm x 97 cm)

Lauded as a "best buy" by Consumers Digest in the premium spa category, the LSX 800 includes the following features:

Comfortably seats 5 – 6 adults
70 therapeutic jets
imensions: 94″ x 94″ x 38″ (239 cm x 239 cm x 97 cm)
Relax and Rejuvenate Like a Champion