Rejuvenate Your Body With a Healthy Living Spa
For a healthier mind and body, we're proud to introduce Healthy Living hot tubs to our Wisconsin friends. These hot tubs are designed to melt away workweek troubles and soothe aching muscles and joints.
You will even carry on the benefits of using this hot tub for the week to come; Healthy Living spas are designed to stimulate natural healing through hydrotherapy, radiant heat, and whole-body relaxation. Just think of it as the Swedish spa for the hectic, modern world.
Are you ready to bring one of our customer-favorite Healthy Living hot tubs to your own backyard? Stop by one of our locations in Appleton and Waukesha, just outside of Milwaukee. Of course, you can always continue on to read about the amazing features this wellness spa has to offer!
Healthy Living Spa Collection
The HL 630 Healthy Living model is one of the best-selling spas in the Healthy Living series.

Comfortably seats 4 adults
30 Jets
Dimensions: 78″x 78″x 32″ (198 cm x 198 cm x 81 cm)

The HL 7 hot tub model is one of our best-selling spas in the series, with spacious seating for up to five people.

Comfortably seats 5 adults
45 Jets
Dimensions: 84″x 84″x 37″ (213 cm x 213 cm x 94 cm)

The HL 7.5 model is a luxurious water oasis for your Wisconsin backyard! This popular Healthy Living hot tub has room to comfortably seat a part of seven, but its spacious design is also packed with therapeutic features, too.

Comfortably seats 7 adults
47 Jets
Dimensions: 84″x 84″x 37″ (213 cm x 213 cm x 94 cm)
Spa Features:
As Master Spas® Healthy Living users have known for years, researchers are finding the therapeutic action of our hot tubs can actually relieve stress, reduce anxiety, lower blood pressure, while also stimulating your body's natural immune responses. These and many other health benefits can help to realign your mind, body, and spirit.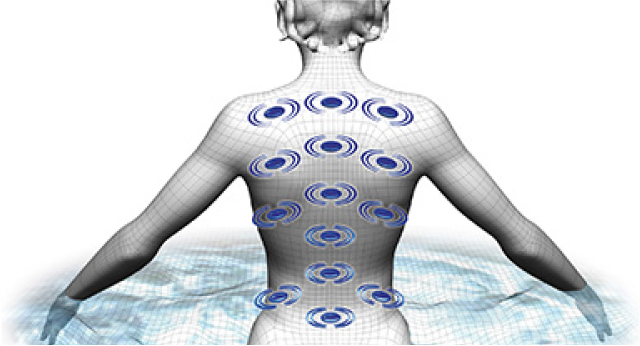 BIO-MAGNETIC THERAPY SYSTEM
Strategically located magnets and user-adjustable
water jets provide therapeutically relieve joints and muscles by massaging the many pressure points of the body.
STRESS-RELIEVING HYDROTHERAPY JETS
These massaging seats are perfect for relieving tension and speeding the healing process in muscles
of the neck, shoulders, and lower back. You can customize up to 50 hydrotherapy jets to experience to meet your exact therapy needs.
ADVANCED FILTRATION
Keep your Healthy Living spa cleaner, clearer, and lessen your chemical usage with the patented EcoPur® filtration and Mast3Pur™ systems. These systems filter and sterilize your hot tub through ultraviolet light and advanced filtration.
NOISE REDUCTION SYSTEM
Make your Healthy Living spa the base of your
tranquility. These hot tubs employ advanced engi-neering to reduce motor- and pump-related vibration and noise by up to 150%.
PREMIUM SOUND SYSTEM
You have the option to upgrade your Healthy Living
spa to include Bluetooth® capabilities, an FM tuner,
and a premium sound system that includes
marine-grade speakers and bass-penetrating sub-
woofer.
QUIETFLO™ WATER SYSTEM
The QuietFlo™ water care system circulates a half-gal-lon of water each second, greatly enhancing the purity and quality of your water.
Experience Therapeutic Relief from Healthy Living
For more information on Healthy Living spas, come visit a Master Spas® of Northern or Southern Wisconsin location in Appleton or Waukesha, just a short drive from Milwaukee.