Brought to you by the industry leader, Master Spas, a Getaway Hot Tub is your passport to relaxation. All Getaway portable hot tubs offer quality construction, innovative features and ease of maintenance, because we believe that owning a hot tub should be a stress-free experience. That's why we've designed five lightweight and easy-to-maintain models, with two spas that feature plug and play technology that makes hot tub ownership easy and flexible. Enjoy the simplicity of a two-step installation process—fill it up, and plug it in! Our hot tubs feature the latest technology, comfortable seats, powerful jets and a host of features typically reserved for more expensive hot tubs, which adds up to an unparalleled spa experience at a surprisingly low price.
Each portable Getaway Hot Tub is masterfully crafted using high-density polyethylene, which produces a durable, lightweight and scratch-resistant hot tub. Due to its lightweight nature, a Getaway Hot Tub can be placed on a variety of flat surfaces and transported easily. Featuring plug and play technology*, your hot tub can easily transform any location into a tranquil getaway. And each Getaway Hot Tub features full foam insulation, maximizing heat retention and minimizing power use. Ranging in size and amenities like waterfalls and LED lights, there is a Getaway Hot Tub that's right for you. Shop our five models to learn more and get your passport to relaxation.
Getaway Hot Tubs Collection
Experience the stress-relieving power of 40 therapeutic jets, including reverse molded neck jets, in this spacious hot tub that seats up to five people.

Comfortably seats 5 Adults
40 Jets
Dimensions: 87" x 87" x 35" (221 cm x 221 cm x 89 cm)

An open seating arrangement of lounge and bucket seats with 25 jets and a beautiful cascading waterfall make for a relaxing evening for you and up to four others, regardless of which seat you choose.

Comfortably seats 5 Adults
25 Jets
Dimensions: 87" x 87" x 35" (221 cm x 221 cm x 89 cm)
Spa Features:
As Master Spas® Healthy Living users have known for years, researchers are finding the therapeutic action of our hot tubs can actually relieve stress, reduce anxiety, lower blood pressure, while also stimulating your body's natural immune responses. These and many other health benefits can help to realign your mind, body, and spirit.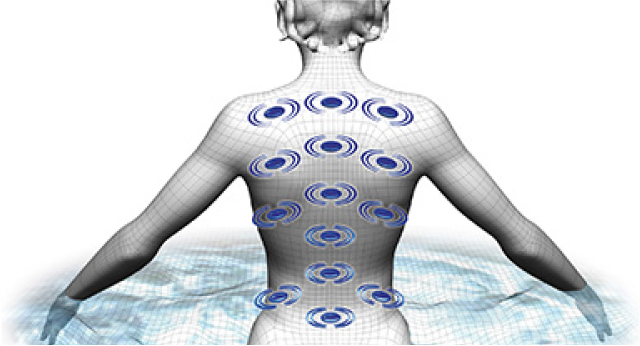 BIO-MAGNETIC THERAPY SYSTEM
Strategically located magnets and user-adjustable
water jets provide therapeutically relieve joints and muscles by massaging the many pressure points of the body.
STRESS-RELIEVING HYDROTHERAPY JETS
These massaging seats are perfect for relieving tension and speeding the healing process in muscles
of the neck, shoulders, and lower back. You can customize up to 50 hydrotherapy jets to experience to meet your exact therapy needs.
ADVANCED FILTRATION
Keep your Healthy Living spa cleaner, clearer, and lessen your chemical usage with the patented EcoPur® filtration and Mast3Pur™ systems. These systems filter and sterilize your hot tub through ultraviolet light and advanced filtration.
NOISE REDUCTION SYSTEM
Make your Healthy Living spa the base of your
tranquility. These hot tubs employ advanced engi-neering to reduce motor- and pump-related vibration and noise by up to 150%.
PREMIUM SOUND SYSTEM
You have the option to upgrade your Healthy Living
spa to include Bluetooth® capabilities, an FM tuner,
and a premium sound system that includes
marine-grade speakers and bass-penetrating sub-
woofer.
QUIETFLO™ WATER SYSTEM
The QuietFlo™ water care system circulates a half-gal-lon of water each second, greatly enhancing the purity and quality of your water.
Experience Therapeutic Relief from Healthy Living
For more information on Healthy Living spas, come visit a Master Spas® of Northern or Southern Wisconsin location in Appleton or Waukesha, just a short drive from Milwaukee.